Posts for tag: orthodontic treatment
By Associated Dentists
July 31, 2017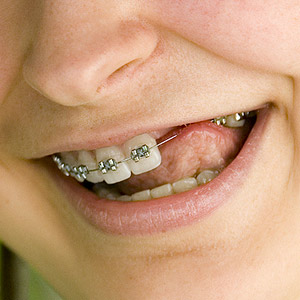 "To gain something, sometimes you have to give up something else."
No, that isn't the latest viral meme on the Internet. It's actually a practical consideration that could arise in orthodontics.
In this case, the "something" to gain is a straighter, more attractive smile; the "something" you may have to part with is a few teeth. This may be necessary if there are too many teeth on a dental arch for its capacity, a situation called crowding. A lack of space is the main reason teeth come in misaligned.
Before we can correct this, we'll need to free up space to allow for tooth movement by removing one or more of the existing teeth. The ideal candidates are those that are near to the teeth we wish to move but not highly visible. The first bicuspids are the most frequent choices for removal: they're located behind the cuspids or eyeteeth (the pointed teeth right under the eyes).
Ideally, we'll remove the target teeth some time before we apply braces to give the gums a chance to heal. At the same time we want to preserve the bone that once supported the teeth we've extracted. This is because when we chew the forces generated by the teeth stimulates bone replacement growth. When a tooth is no longer there the supporting bone doesn't receive this stimulation and may ultimately reduce in volume.
We may try to prevent this by placing a bone graft in the empty socket immediately after removing the tooth. The graft serves as a scaffold to encourage new bone to grow. Hopefully when we're ready to apply braces, the bone will be strong and healthy to handle the movement of the teeth.
As the teeth move under the influence of braces, they'll begin to fill up the space created by tooth removal. Once it's completed, the extracted teeth won't be missed — the other teeth now straightened will completely fill out the smile.
The different steps in this process must be carefully planned and executed precisely, and it will take months or even years to complete. In the end, though, this complicated bite problem can be corrected and replaced with an attractive, straight smile.
If you would like more information on correcting a poor bite, please contact us or schedule an appointment for a consultation. You can also learn more about this topic by reading the Dear Doctor magazine article "Tooth Removal for Orthodontic Reasons."
By Associated Dentists
April 16, 2017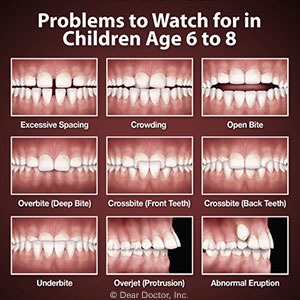 You may not always be able to tell if your child's bite isn't developing properly. Â That's why you should have them undergo an orthodontic evaluation around age 6 to uncover any emerging problems with tooth misalignment.
Still, there are some visible signs all's not well with their bite. As the primary (baby) teeth give way, the permanent teeth erupt sequentially around ages 6 to 8. As they come in, you should notice that each tooth fits uniformly next to each other without excessive gaps or, on the other end of the spectrum, not crowded together in crooked fashion. Upper teeth should also fit slightly over the lower teeth when the jaws are shut.
If their teeth appearance deviates from these norms, they may have a bite problem. Here are 4 abnormalities you should watch for.
Underbite or deep bite. As we mentioned, the front teeth should cover the lower teeth with the jaws shut. In an underbite, the reverse happens — the lower teeth are in front of the upper teeth. It's also a problem if the upper teeth cover the lower teeth too much (often referred to as "deeply").
Open bite. This occurs when there's a gap between the upper and lower front teeth while the jaws are shut together. One possible cause is late thumb sucking, which can put undue pressure on the front teeth and cause them to develop too far forward while forcing the bottom front teeth further backwards.
Crossbites. This kind of bite occurs when some of the teeth don't fit properly over their counterparts, while others do. Crossbites can occur anywhere in the mouth, for example the upper front teeth fitting behind the lower front teeth while the back teeth overlap normally, or the reverse (front normal, back abnormal).
Misalignments and Abnormal Eruptions. Sometimes upper teeth may align too far forward, a situation known as protrusion. Conversely, lower teeth (or the jaw itself) may come in too far back (retrusion). Because a primary tooth might be out of position or not lost in the proper sequence, a permanent tooth might noticeably erupt out of its proper position.
If you notice any of these situations with your child's teeth see your dentist or orthodontist soon for a full examination. If caught early, we may be able to take action that will lessen or even eliminate the problem.
If you would like more information on treating bite problems, please contact us or schedule an appointment for a consultation.
By Associated Dentists
December 24, 2016
When planning for your new smile, we look at more than the condition of individual teeth. We also step back for the bigger "bite" picture: how do the teeth look and interact with each other?
If we have a normal bite, our teeth are aligned symmetrically with each other. This not only looks aesthetically pleasing with the rest of the face, it also contributes to good function when we chew food. A bad bite (malocclusion) disrupts this mouth-to-face symmetry, impairs chewing and makes hygiene and disease prevention much more difficult.
That's where orthodontics, the dental specialty for moving teeth, can work wonders. With today's advanced techniques, we can correct even the most complex malocclusions — and at any age. Even if your teen years are well behind you, repairing a bad bite can improve both your smile and your dental health.
The most common approach, of course, is braces. They consist of metal or plastic brackets bonded to the outside face of the teeth with a thin metal wire laced through them. The wire attaches to an anchorage point, the back teeth or one created with other appliances, and placed under tension or pressure. The gradual increasing of tension or pressure on the teeth will move them over time.
 Braces are versatile and quite effective, but they can be restrictive and highly noticeable. Many people, especially older adults, feel embarrassed to wear them. There is an alternative: clear aligners. These are a series of clear, plastic trays that you wear in sequence, a couple of weeks for each tray. When you change to the next tray in the series, it will be slightly different than its predecessor. As the trays change shape guided by computer-enhanced modeling, the teeth gradually move.
If you're interested in having a poor bite corrected, the first step is a comprehensive orthodontic examination. This looks closely at not only teeth position, but also jaw function and overall oral and general health.
With that we can help you decide if orthodontics is right for you. If so, we'll formulate a treatment plan that can transform your smile and boost your dental health.
If you would like more information on the cosmetic and health benefits of orthodontics, please contact us or schedule an appointment for a consultation. You can also learn more about this topic by reading the Dear Doctor magazine article "The Magic of Orthodontics."