Posts for tag: oral health
By Associated Dentists
July 08, 2017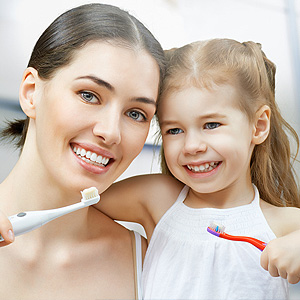 A child's formative years have an immense impact on their physical, mental and emotional well-being. As a parent you want them to have every advantage possible.
That should include a healthy mouth — actions you take now could determine the long-term soundness of their teeth and gums. Here are 5 things you can do to ensure your child's present and future oral health.
Begin oral hygiene habits early. By early, we mean even before their first teeth appear. Wipe their gums after every feeding with a water-soaked cloth or gauze pad; when teeth appear switch to brushing with just a smear of toothpaste on the end of the brush.
Start dental visits around their first birthday. Early dental visits increase the chances of detecting and treating developing problems before they become worse. And starting may also help your child become comfortable with visiting the dentist — waiting until later increases the chances of anxiety and an aversion to dental visits that might carry over into adulthood.
Adopt dental-friendly home and lifestyle habits.  Don't allow your child to sleep with a pacifier or bottle filled with sugary fluids, including breast milk or formula: fill them with water instead. Limit their sugar consumption to small amounts and only at meal times. And be sure to "childproof" your home against hazards, especially sharp-edged furniture that could damage teeth if they make hard contact with it.
Teach them to care for their own teeth. Although you'll need to brush their teeth for them in the beginning, be sure you eventually teach them to perform this vital habit for themselves. To ease the transition try modeling the behavior or make it into an activity you can do together.
Partner with your family dentist. Your dental office can do more than prevent or treat dental disease — they're an important resource in helping you manage your child's dental needs at home. They can coach you on brushing and flossing techniques, and provide information to set your mind at ease about concerns like teething or thumb sucking.
If you would like more information on complete oral care for your child, please contact us or schedule an appointment for a consultation. You can also learn more about this topic by reading the Dear Doctor magazine articles "Dentistry & Oral Health for Children" and "Top 10 Oral Health Tips for Children."
By Associated Dentists
June 08, 2017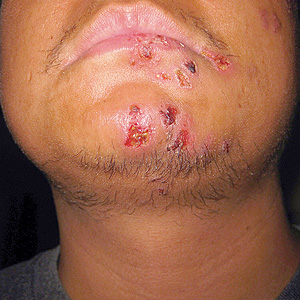 If you had chicken pox as a child, you're at higher risk for a painful viral infection later in life called shingles. Besides a painful skin rash and other symptoms that can develop, shingles could also affect your dental care.
About 90% of children contract chicken pox, a disease caused by the varicella zoster virus (VZV), which usually clears up on its own. But later in life, usually after age 50, about a quarter to a third of chicken pox patients will develop shingles.
The onset of shingles usually produces an itching or burning sensation on the skin that's either numb or overly sensitive to the touch. A red rash may ensue with crusty lesions, accompanied sometimes by pain, fever and fatigue. The rash often forms a belt-like or striped pattern along one side of the face or body.
For most patients this painful rash is the extent of their symptoms. But women who are pregnant, patients undergoing cancer treatment or people with compromised immune systems are at risk for more serious complications if they contract the disease. It's important for these at-risk patients to obtain a vaccination, as well as avoid contact with anyone with shingles.
Which brings us to your dental care: in its early stages shingles can be contagious, the virus passing to others through skin contact or by airborne respiratory secretions. That's why it's important if you're currently experiencing a shingles episode that you let us know before undergoing any kind of dental work.  Even a routine teeth cleaning with an ultrasonic device could disrupt the virus and increase the chances of it spreading to someone else. We may need to postpone dental work until the virus is under control.
Antiviral drugs like acyclovir or famciclovir are highly effective in bringing the disease under control, especially if treatment starts within three days of the onset of symptoms. And don't forget the shingles vaccination: the U.S. Center for Disease Control recommends it for anyone 60 or older regardless of a past history with chicken pox.
See your physician as soon as possible if you begin to notice symptoms. Don't let shingles interfere with your life — or your dental care.
If you would like more information on the impact of shingles and similar viruses on dental care, please contact us or schedule an appointment for a consultation.
By Associated Dentists
October 25, 2016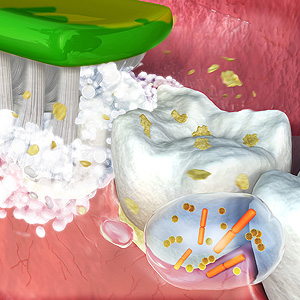 Mention "bacteria" and people begin looking for the germicide. The truth is, though, only a few strains cause disease — the rest are benign or even play a beneficial role.
This may shock you, but your body both inside and out is home to around 100 trillion single-celled organisms, exceeding the number of your native cells by 10 to 1. You won't notice them, though: bacteria are so small they only make up 1 to 3% of your total body mass. And each of us has a unique "microbiome" of micro-organisms: they influence a variety of processes like digestion and metabolism, and some even "teach" our immune systems to distinguish between helpful and harmful bacteria.
Of the 10,000 or more species of bacteria that inhabit the body, perhaps the most studied and understood are in the mouth. We even have a database that catalogs the gene sequences of oral bacteria. And what we've learned has enlarged our understanding of dental disease and how to prevent or treat it.
This new knowledge, for example, confirms that many of our modern lifestyle habits adversely affect oral health. For example, researchers have found higher concentrations of Streptococcus mutans, the bacteria most responsible for tooth decay, in current samples of biofilm than in those from preindustrial eras. The culprit seems to be the modern diet rich with carbohydrates like sugar that bacteria eat. Cigarette smoking can also make the mouth friendlier to disease-causing bacteria.
On the bright side, our growing knowledge of oral bacteria is helping us devise better prevention and treatment strategies. One example is the use of antibiotics to reduce the populations of disease-causing oral bacteria.
The broad, traditional approach kills not only malevolent bacteria, but beneficial strains as well. The approach may also be helping bad bacteria become resistant to common antibiotics. A newer approach targets specific bacteria with custom-designed antibiotics that won't kill other bacteria. There's also increased focus on ways to re-balance a person's normal microbiome if it's become skewed.
As we come to understand bacteria better — both good and bad species — these and other dental care efforts will benefit. With our increasing knowledge of these microorganisms that surround us the future looks bright for better oral health.
If you would like more information on the role of bacteria in oral health, please contact us or schedule an appointment for a consultation. You can also learn more about this topic by reading the Dear Doctor magazine article "New Research Shows Bacteria Essential to Health."